The NCHRO condemns the arrest of activist Disha Ravi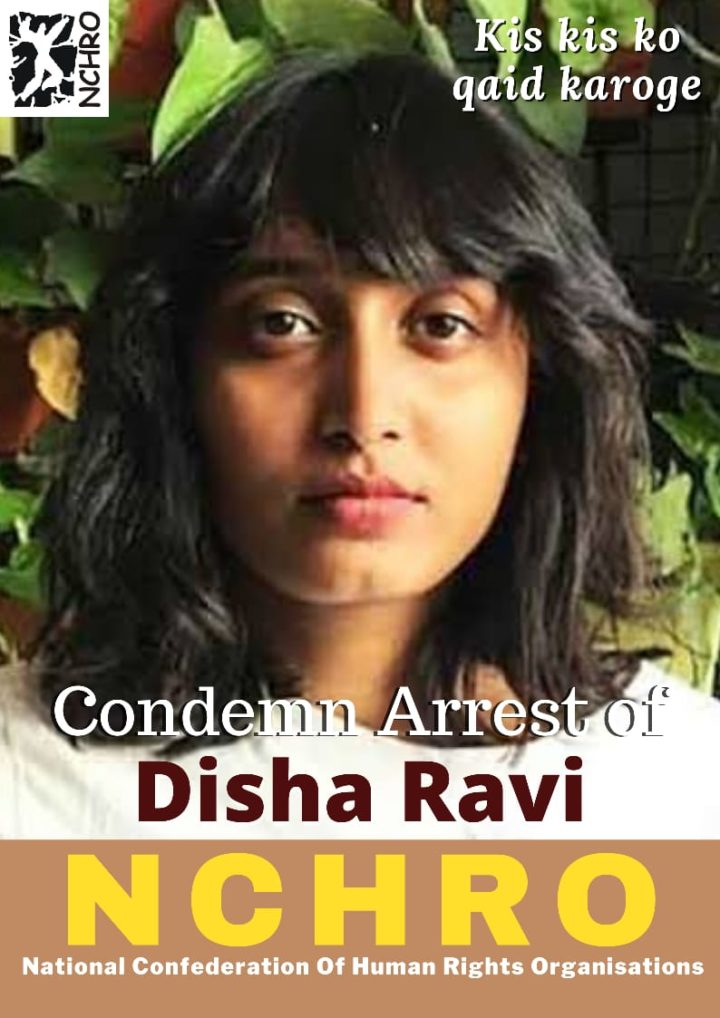 New Delhi: 16 Feb 2021. On February 13, 2021, the Delhi Police registered an FIR against Disha Ravi. Ravi has been a known climate activist and has supported the farmers' protest publicly. The Police claim that Ravi has used a "toolkit" supporting the farmers' protests. The toolkit allegedly had some links related to the Khalistani movement in India.
Along with Ravi, the police have also been interrogating another activist and lawyer, Nikita Jacob, in the same case. The police have said that Jacob has recently attended a Zoom meeting about the Khalistani movement.
Ravi has been charged with sedition, a crime that has its roots in colonial India. She was in Bangalore when the police got hold of her, and they flew her to Delhi afterward. After arrest, Delhi's Patiala House Court remanded Disha Ravi to five-day police remand even as her lawyers were not present in the court. Her legal team has reportedly said that they were not told which court she was being produced in.
The fact that a climate activist who has shown public support for the farmers' cause is being targeted by the government in this way speaks all the more about the insecurity of this government.
Arresting anyone and everyone who is standing for justice and booking them under draconian sections of the law has become an everyday tactic of the regime now. Ever since the farmers began their protest and gathered at the various borders of Delhi, all sorts of slanderous statements and lies have been spread, both by the government and the saffron media. Labeling their movements as that of the "Khalistanis" was one of such lies.
In the same vein, the government has been cracking down on everyone speaking and working for solidarity between farmers and workers, like Nodeep Kaur and Shiv Kumar. Sometimes the police charge that the people are instigating violence, as happened with the journalists recently charged with sedition for tweeting about the death of a man on January 26 in the wake of the violence that happened that day.
It is totally clear that anyone who is standing for the farmers' cause is being targeted by this government.
The National Confederation of Human Rights Organisations (NCHRO) condemns the arrest of Disha Ravi and the harassment of people like Nikita Jacob. The NCHRO stands with Disha Ravi and every other justice-loving person being attacked by this government.
Adv.Muhammad Yusuf
Secretary
NCHRO (National Confederation of Human Rights Organizations