Art Exhibit at the Giant Dwarf Art Space, Angono, Rizal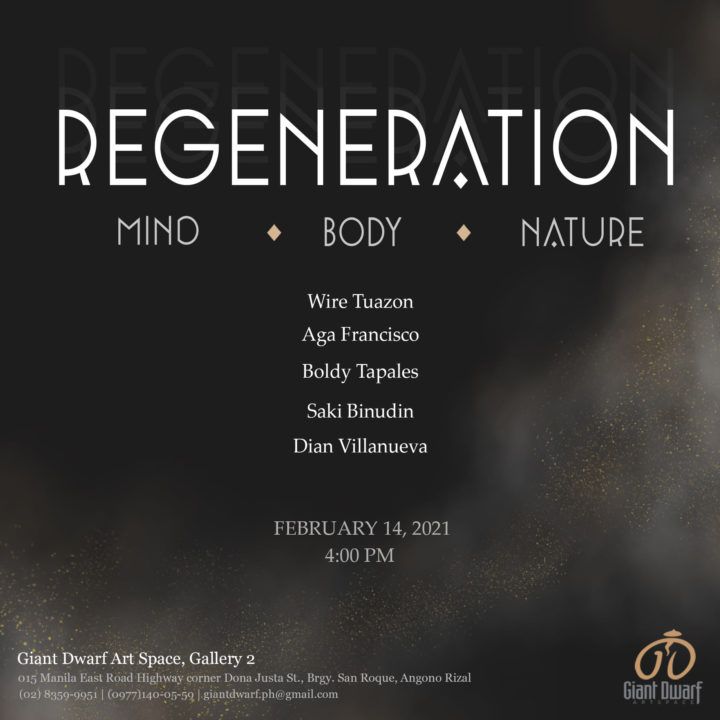 VISUAL ARTS
by Saki (Ishak Binudin)
As a phenomenon of life, regeneration takes on different forms, captured by the diverse paintings and artworks presented by five artists of different generations, using different aesthetic techniques and approaches. As renewal or restoration, regeneration is equally observed in the mind, in the body, and in nature. When applied in art, the concept provides fertile fields of executions and directions.
In nature, the concept of regeneration may take on the form of growth, the death of the old to give way to the birth of new living things that are more adapted than their parents. The shedding of leaves and their budding out, the blossoming of vegetation to heal the ravages of erosion, all this is a testament to the fact.
With the body, we witness occurrences of recovery and rehabilitation, the body finding the solution to itself. And as we consider it as a vessel of our own intention, we can intervene and modify not only its looks but its behavior according to this intention.
Lastly, as a generator of concepts, ideas and images, the mind or, more properly, consciousness reveals its power. Through the plasticity and malleability of the imagination, one can construct or reconstruct forms and metaphors for profound observations and experiences. How may one depict the union and alternation of day and night, the identity of what is up and what is down? What is the sense of re-creating profound myths? What poetry or imaginary representations have to be discovered or rediscovered to express truths that cannot be represented otherwise?
---
About Saki (Ishak Binudan)
Saki (Ishak Binudin) is a creative director, who read Philosophy at the University of the Philippines, Diliman, and taught English for art history in Paris. As an artist, he believes that through sensuous forms and allegories, art can reveal and communicate experienced abstract structures and realities.