Graphics: How is COVID-19 spreading in Africa?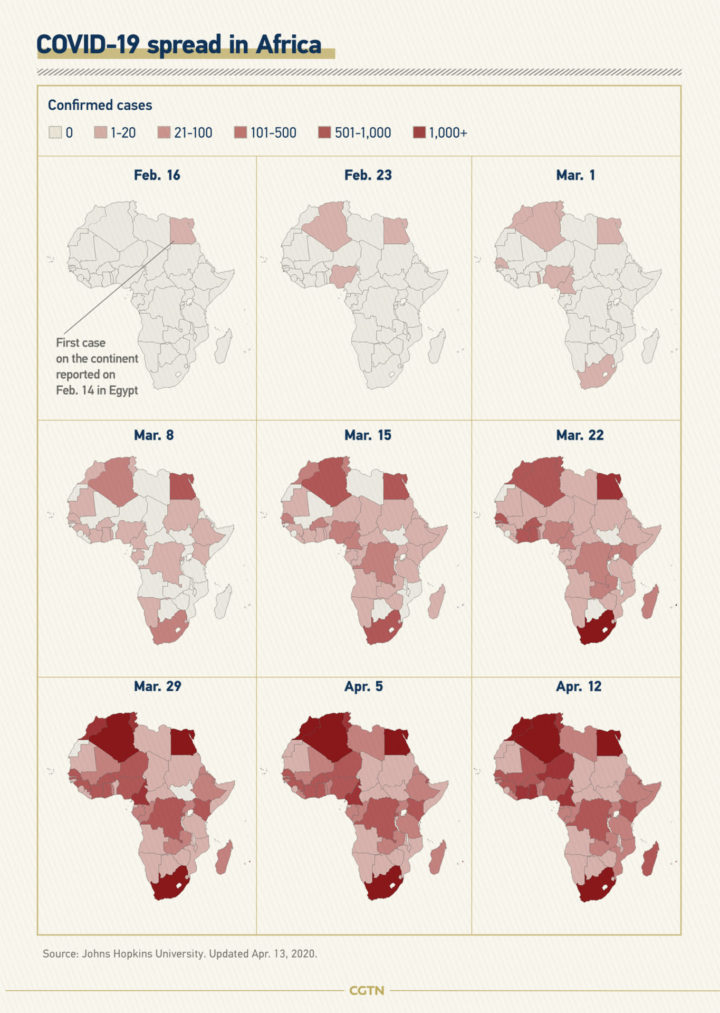 The COVID-19 pandemic is ravaging the world and Africa is not spared.
Since the continent reported its first case in Egypt in mid-February, some 15,000 cases and 800 deaths have been confirmed, according to data compiled by Johns Hopkins University on Monday.
The novel coronavirus has spread to almost all African nations. Only two countries, Comoros and Lesotho, have yet to report a case of infection.
South Africa (with 2,272 cases), Egypt (2,190), Algeria (1,983) and Morocco (1,783) have all passed the grim milestone of over 1,000 cases.
Compared with elsewhere in the world, infections in African countries seem to be rising at a slower pace. But this does not mean the continent has brought the outbreak under control, said experts.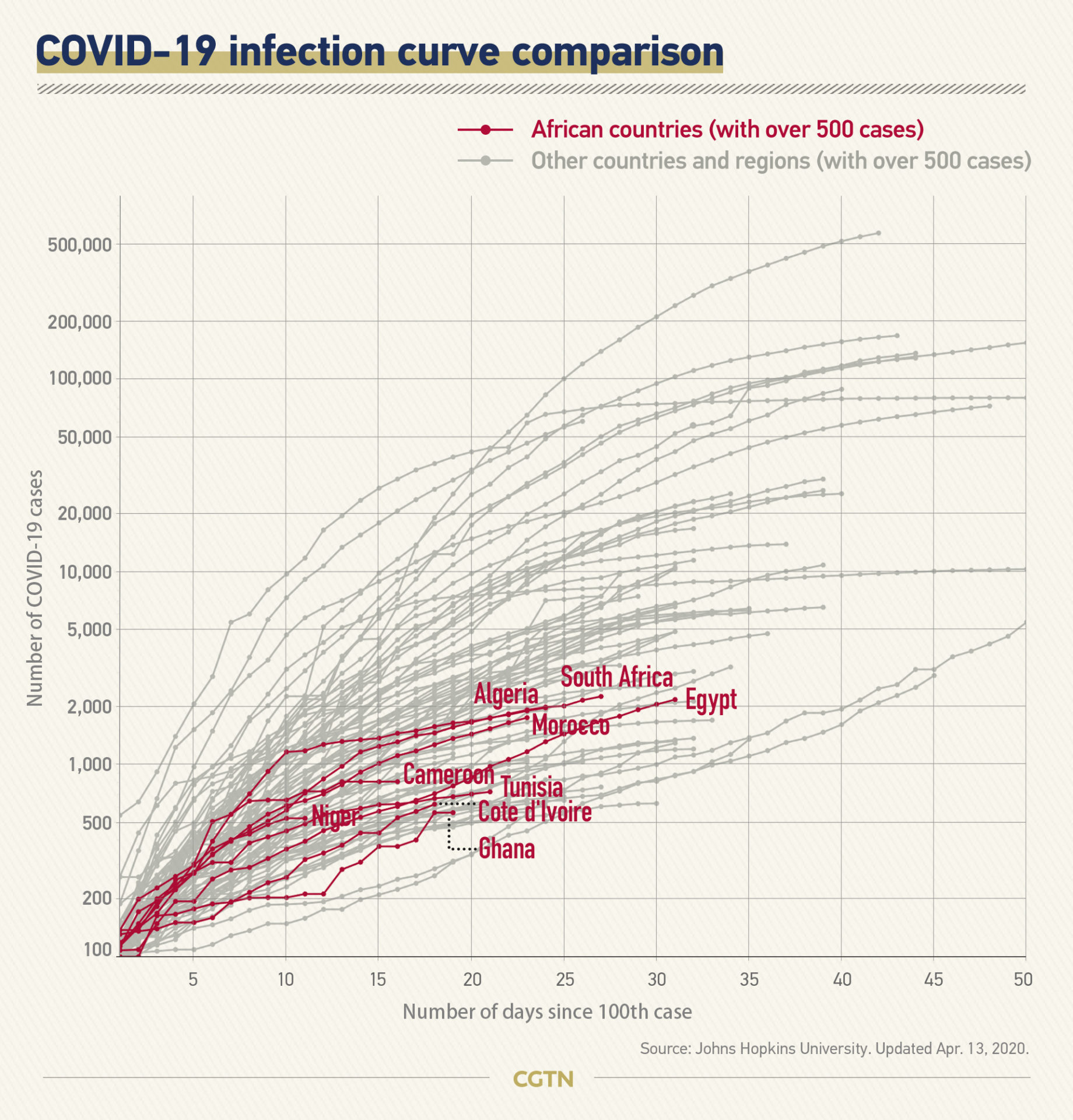 In South Africa, stronger testing abilities and better healthcare system enabled it to conduct more tests than any other country on the continent, which resulted in more cases being found.
Africa's most industrialized nation reported by far the highest number of COVID-19 infections after testing over 80,000 people, compared with merely 5,000 tests to date in Nigeria, Africa's most populous country.
Testing capabilities could be more worrying in other African nations.
South Africa to roll out at least 600,000 COVID-19 tests
Africa, the least developed continent, is especially vulnerable to the raging pandemic with its densely populated markets and housing, poor access to safe water and sanitation facilities, and fragile health systems.
Under such conditions, it is hard to carry out even basic protective measures such as social distancing and hand-washing.
"I want to take a moment to highlight Africa, where we are seeing the spread of the virus to rural areas. We are now seeing clusters of cases and community spread in more than 16 countries. We anticipate severe hardship for already overstretched health systems, particularly in rural areas, which normally lack the resources of those in cities," said WHO Director-General Tedros Adhanom Ghebreyesus last Friday.
Algeria has become the country with the highest COVID-19 fatalities in Africa. Its near 16 percent fatality rate is among the highest in the world.
The recovery rates in Africa are also slightly lower than that of other regions, said WHO's regional director for Africa.
To contain the virus' spread, at least 10 African countries have imposed lockdowns and curfews, and many more have closed their air and land borders aimed at stemming the spread of the coronavirus.
South Africa has extended a lockdown to the end of April. The lockdown, which started on March 27, is one of the toughest measures imposed by an African government. Nigeria has locked down its largest city Lagos, a suburb of the capital of the Democratic Republic of Congo also followed suit.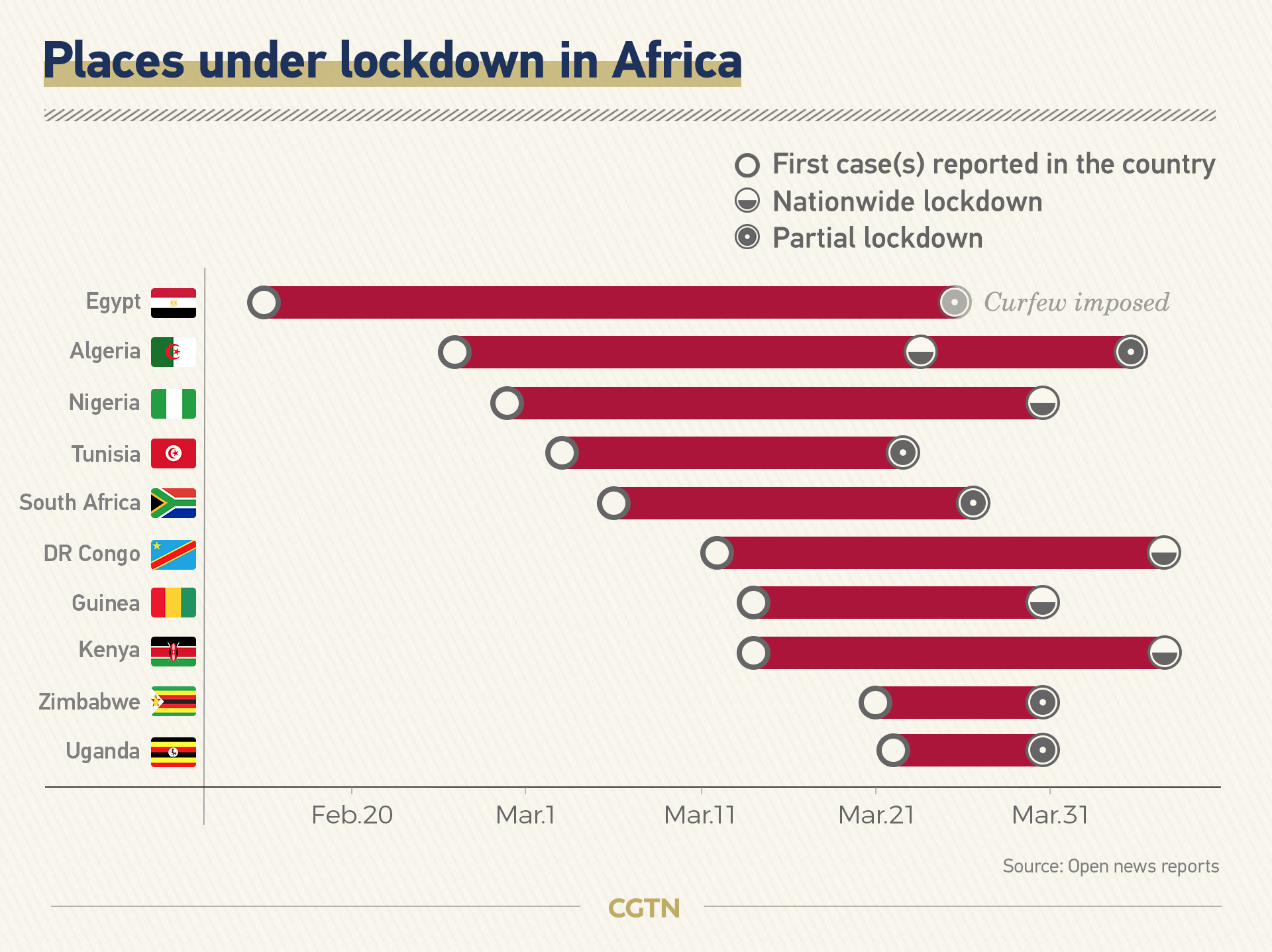 However, prevention measures like lockdowns, curfews and suspensions of international flights, though inevitable, risk huge enormous economic costs, food crisis, and even humanitarian disasters, experts warned.
A recent African Union report said that nearly 20 million jobs on the continent "are threatened with destruction." More than a third of the African population already lives below the poverty line.
A World Bank report published last week forecast sub-Saharan Africa will fall into its first recession in 25 years due to the pandemic.
The outbreak is disrupting the continent's agricultural market chains, leading to shortages of food and price increases. Africa is especially vulnerable right now with desert locust infestations already threatening the continent's food supply, according to the Food and Agriculture Organization.
In the words of John Nkengasong, director of the Africa Centers for Disease Control and Prevention, the COVID-19 pandemic "is an existential threat" to the continent with a population of 1.3 billion.
The world "can't be at peace as long as there is an outbreak in any country," said Chinese respiratory disease specialist Zhong Nanshan.
For decades, Africa has been plagued by malaria, AIDS as well as tuberculosis and has yet to recover from the Ebola virus. Amidst the current COVID-19 pandemic, the Democratic Republic of Congo has reported a new Ebola case as it was counting down to the end of the epidemic.
During the Extraordinary G20 Leaders' Summit last month, major economies in the world have reached a consensus that consolidating Africa's health defense is a key for the resilience of global health.
As the clock ticks, the world should move faster to help its least prepared regions to survive this unprecedented health crisis.
Graphics: Fan Chenxiao, Gao Hongmei, Chen Yuyang