Latin America: Conference on the Protection of Civilians from the Use of Explosive Weapons in Populated Areas
This post is also available in: Spanish, Greek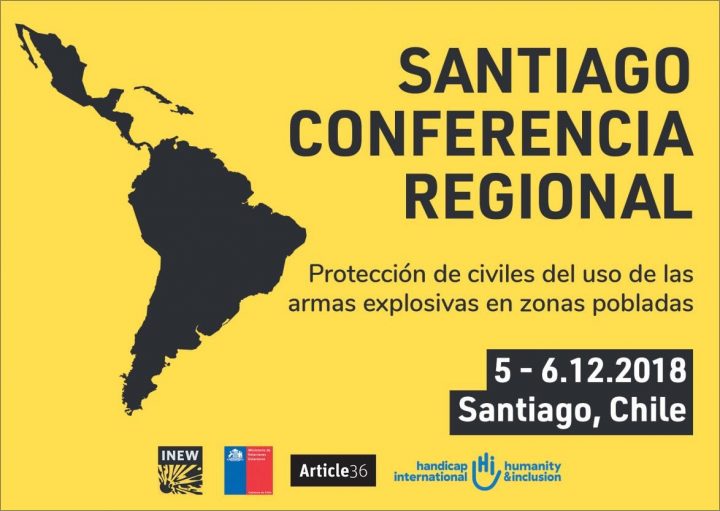 By Pamela Velásquez.
On December 5 and 6, the Regional Conference on the Protection of Civilians from the Use of Explosive Weapons in Populated Areas was held in Santiago, Chile. It was attended by 23 Latin American and Caribbean States, representatives of governments and civil society, the United Nations and the Red Cross.
Previously, a regional meeting was held in Maputo, Mozambique, in 2017 to disseminate knowledge and evidence on the distinctive pattern of the use of such weapons and to explore steps to address this damage at a political and operational level. At the time, the 19 participating states adopted a final communiqué, which was a first political document regarding the use of explosive weapons in populated areas.
The bombing of towns and cities has a devastating impact on civilians. In 2017, approximately 32,000 civilians were killed or injured by explosive weapons, mainly in Syria, Iraq, Afghanistan, Pakistan and Yemen.
Foreign Minister Carolina Valdivia participated in the inauguration, saying: "We are facing a discouraging and critical scenario that demands immediate responses from the international community."
Laura Boillot, coordinator of the international network on explosive weapons, INEW, said that "bombs and bombings are the biggest cause of death, injury and displacement of civilians in current conflicts" and added that "states must establish stricter standards against the use of explosive weapons that cause greater damage, especially heavy explosive weapons."
The UN Secretary-General has repeatedly called on states to stop the use of explosive weapons in populated areas.
For two days, the participants debated weapons of wide impact, increasing urbanization, the transfer of conflicts to urban areas and the impacts on civilians.
As a result of this meeting, the 23 states attending from Latin America and the Caribbean agreed to support the process that will lead to the negotiation and adoption of an international political declaration on the use of explosive weapons in populated areas.