Beyond Words… as the tricolour flies from Kiwi goal posts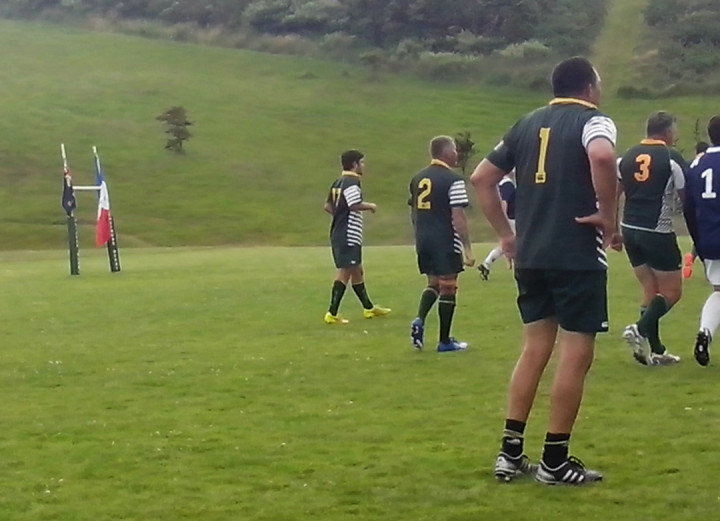 We must engender and perpetuate the spirit of care, love, joy and kindness and never give in even to the most harrowing incidents. That poignant, powerful message emanated from the bottom of the world in an astonishingly moving and ever so fitting epitaph event yesterday (Saturday 21st ) in sport and rugby loving New Zealand when 21 French men – Paris luminaries, rugby greats of yore known as "Generation 69" after the year of their birth, and all former players of the famous Stade Francais Rugby Club in Paris who refused to be bowed by last week's atrocities in their city and continued with their schedule by flying 12,000 miles away from their homeland to play a special friendly match on a little island, Waiheke, near the main city of Auckland.
By Vonnie Boston
The French players having just arrived direct from Paris stressed the messages of concern for mankind, wherever on the planet, were foremost in their minds. Captain, Emmanuel Trotot, in his remarks noted how difficult it was for all concerned but that after much consideration they concluded they must come to show that such shocking happenings will not topple the true spirit of humanity.
The match was unbelievably touching from the outset as when the teams lined up at the start respect was the absolute keynote as they stood silently: first a minute of silence for Paris and then a minute of silence for a local rugby player as much a legend on the world stage of the sport as in New Zealand – the mighty Jonah Lomu, who died unexpectedly last Wednesday, at his Auckland home having just flown in the night before from attending the World Rugby tournament held earlier in the month in UK.
With a nod to their age, it seemed, the match was played in four 15 minute sectors and while the French turned out in crisp, neat, sparkling white shorts and garb the Waiheke old-boys lost out somewhat in the sartorial stakes… but don't judge a book by its cover – their captain was none other than Gary Braid a mighty tower of rugby strength in the community and former All Black circa 1983 –84, so the final whistle saw the locals prevail. They also had Steve Jackson, a former Maori All Black, in the squad. But Gary said they had to admit they had cheated a little – as while the French were a team who had stayed together and travelled as a group over the years the Waiheke side had been hastily put together and even that morning they were still ringing and texting about to field a full team and feared they may be a few men short so anyone who had noticed that two or three on their side looked amazingly youthful weren't wrong! And any thoughts that perhaps rugby is a new eternal youth drug were dashed as he admitted they'd had to let a few younger blades in. But the ref was not fooled, apparently, and simply ruled out any points the young guys made as they raced over the line with the tricolor blowing boldly from the goal posts.
Accordingly the final score was something of a mystery with some claiming 7 – 3 and others 8 – 4 and then finally after a bit of sampling of the local vino, for which the island is proud, and heading back to Auckland late in the day the "official" conclusion from the Club President was that it was a draw.
And how right he was as somehow this match transcended winning and losing in the traditional manner… a much more powerful spirit had invaded the pitch as all the locals cheered equally for the French as for the home-side, whatever skill was demonstrated. That mood prevailed as the small community had raced to support the greater need of showing solidarity for the French and sharing a fraternal global call to care for people wherever. .. so one and all were heartily encouraged to take the opportunity to enjoy the after-match social mingling plus a barbeque banquet which was created for everyone – children, adults, young and old all to partake free of charge – the only proviso –" just ensure the French guests go first."
And so they all chatted and shared photos of their families back in Paris and inspired the local youngsters to link with children in France and the value was in the fraternal atmosphere so created, as Captain Gary Braid, said, it demonstrated the true spirit of what we as people all are. He then happily took the trouble to talk to some children and share some wisdom that will surely serve them well in life as it must have done for his two sons – already both outstanding sportsmen. One, Daniel Braid, none-other than captain for Manchester now, plus he has a background to match Dad's as a star with the All Blacks; and the other boy – Luke – now an equally dazzling sportsman, is currently playing for Bordeaux.
But the truly pertinent wisdom their dad dispensed to the present young fry was to always remember to play whatever sport you participate in with passion and as a team, for it doesn't matter who scores the goal or try, what matters, he said, is you recognise the part you all played to enable one person to achieve the final moment of scoring a goal. And that, he stressed, is what's so important in life – to play it fully but know we all need each other… and that took us right back to the French situation and their Captain, Emmanuel Trotot, for in his summing up, which included a wry reference or two to some past French encounters with the All Blacks, thanked everyone for their messages of concern and support but stressed the need to be as one. He then invited and encouraged everyone to visit them in France and enjoy Paris in the future even though the world seemed suddenly to have become like nothing it was a mere two weeks ago, he said.
But the final word has to go to the President of the Waiheke Rugby Club, Vern Whitehead, who spoke so aptly too in thanking everyone for coming all the way from France irrespective of the atrocities and commending them for such strength and courage at a time when we so wish to convey our sentiment, he said, but we have "no words… ' for that.
And so with that stark thought hanging in the air, he left it to the community to show their response as best they could via their hospitality and the true spirit of sport all of which said much more than anything anyone could fully articulate under the seeming senselessness of the circumstances of the atrocities that had claimed so many lives.
Prior to the team's arrival from France, Whitehead said, the Frenchmen had spent months planning their "great adventure" to New Zealand and Australia, where they will play later this week in Sydney.But what had been intended and planned as a great fun day including a not-too-serious rugby match, he said, would as a result of the terrorist actions be turned into something much more… and that it most certainly was.
Vonnie Boston paints and writes and is presently based in New Zealand – her most recent project is  Souls – the Pike Miners, their Eternal Essence.