EuroMarches 2015 – day 7 – Barcelona-Andorra-Toulouse
This post is also available in: Spanish, French, Italian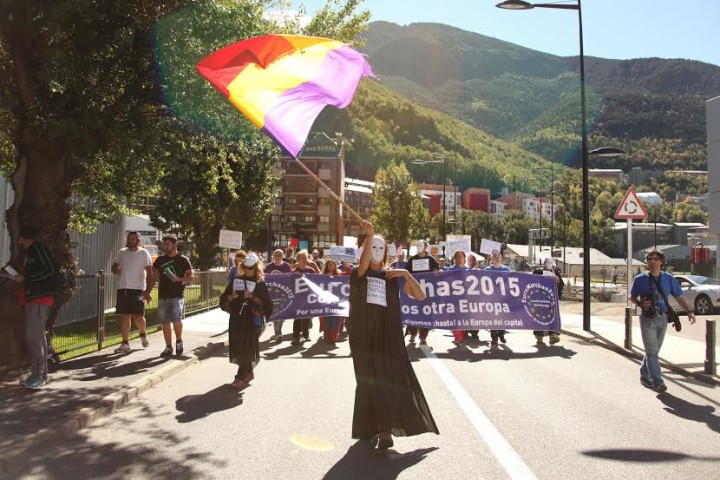 On this day another bus joined the March.
In Seo de Urgel EuroMarches delivered a letter to the Archbishop, Co-Prince of Andorra, a meeting was then held with the unions, who were in their election day and, finally, there was a rally in the main square where the letter delivered to the Archbishop was read out.
Without delay, the buses headed to Andorra where, on time, and after talking with the police, the planned demonstration began. Some 50 activists in black tunics and white masks (like in Gibraltar) carried a banner with the text "tax havens, organized crime". The demonstration made 6 stops: in front of the Andorran Government, the Courts and major banks, explaining the reasons and demands at each one
After the border, in L'Hospitalet, a large group of neighbours prepared an emotional welcome in France with craft beer and apple juice, and songs prepared for the occasion.
In Toulouse, the reception by ATTAC was warm, with a dinner and a discussion on the future of Europe after an intense and exhausting day for the activists.