Bolivia will increase its income by 500% with hydrocarbon industrialisation
This post is also available in: Spanish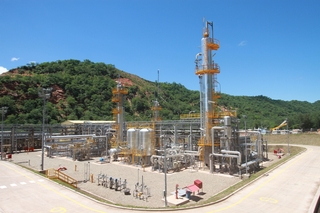 The Deputy Minister for Industrialisation, Commerce, Transport and Hydrocarbon storage, Alvaro Arnez, confirmed on Wednesday that with industrialisation of natural gas, Bolivia will increase its income by 500%.
According to Arnez, Bolivia will earn around 6 billion dollars from the export of natural gas to Brazil and Argentina, an amount that is set to increase five-fold to 30 billion dollars annually, when the industrial plants being built in different regions of the country start to operate.
"With the export of natural gas in 2013, we are going to earn more than 6 billion dollars.  In the medium term, with the implementation of natural gas industrialisation projects we are going to be able to multiply this income by at least five when we include refined petrochemicals.  This will allow us to reach at least 30 billion dollars," he outlined, as quoted in an institutional bulletin.
Likewise, he said that with the projects of Yacimientos Petrolíferos Fiscales Bolivianos (Bolivian Oilfields) 3 billion dollars will be invested in industrialisation projects which, added to the initiatives of the Bolivian Hydrocarbon Industrialisation Company, will "easily" surpass 4 billion dollars.
Arnez explained that within the industrialisation process, the first link in the chain is the implementation of liquid separation plants such as the one installed in Rio Grande (Santa Cruz) and in Gran Chaco (Tarija).
"The industrialisation process starts with the main links that we technically have.  In this sense, the first link is the liquid separation plants that will supply the raw materials to the other industrialisation plants," he added.
In addition, he said that among other important hydrocarbon industrialisation projects there is the construction of the Ammonia Urea factory located in Bulo Bulo (Cochabamba), which will be built with an investment of 843.9 million dollars.
He also highlighted the construction of the Ethylene and Polyethylene plant that will be located in Gran Chaco province and which will demand an investment of at least 1.7 billion dollars.
"With the Rio Grande and Gran Chaco plants we will generate a vision of a production centre and the same will happen with the Ammonia Urea plant in Cochabamba and the Ethylene Polyethylene plant when they come into production.  The population will see the economic growth that these projects will generate as production centres," he added.